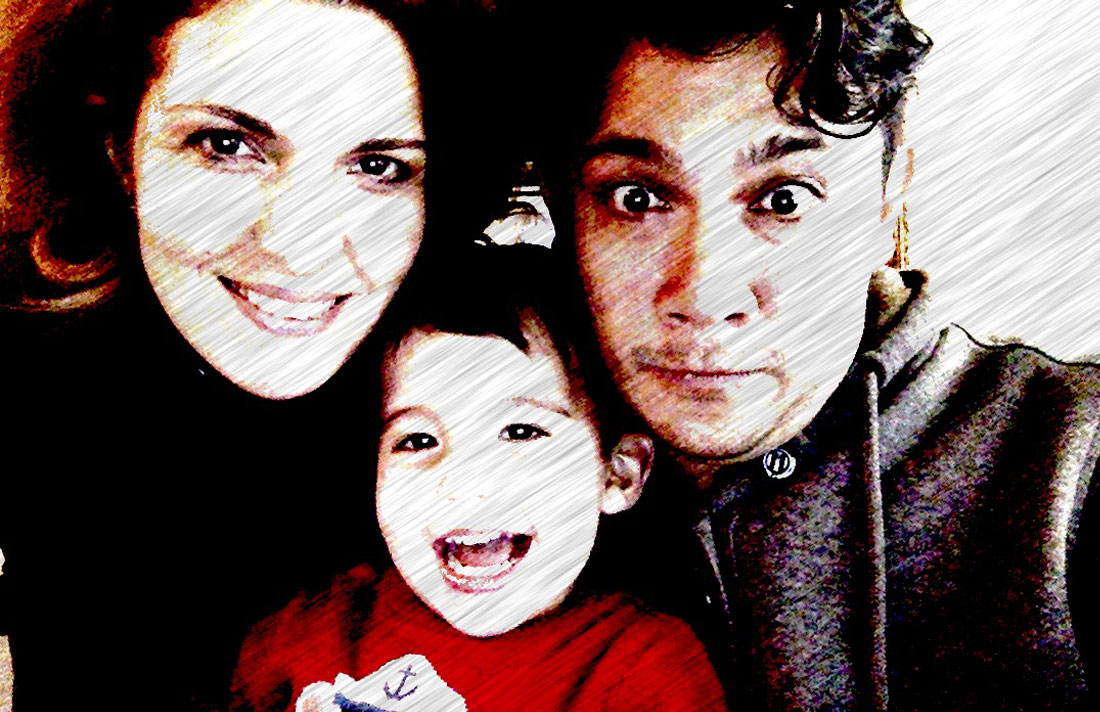 We asked one of our students, Gülseren Gomez, how she first met Feng Shui and what changed in her life when she started applying Feng Shui teachings in her daily life. Gülseren Gomez told us about her baby Tan, the Feng Shui teachings, and the names that affected and changed her life, right after the Feng Shui arrangements she applied in her home.
My name is Gülseren Gomez, I have been a voice artist for 25 years and a voice coach for 10 years. I have a life philosophy. I believe in the power of sound. Especially if you use it correctly. I finished my education in Paris, where I went with my family in the 80s. I had the chance to study at the Hector Berlioz Conservatory. I received training from many teachers. I developed myself through seminars on sound therapy, diction, breathing, yoga, tai chi, dance, sports coaching, wellness, healthy nutrition. In 1998, before I started my own orchestra with my wife, Luis E. Gomez, I took part as a soloist in many different bands and released an album. After participating and winning the Eurovision contest opened by TRT in 2005, my wife and I decided to move to Istanbul from Paris. For 10 years, we have been managing our IRC rugby sports school, the LMA Latin Music Academy (our rhythm workshop) and our Latin Jazz Orchestra, which I founded with my wife in Istanbul.
Nothing is coincidence. When I moved to a new home, I felt it was time to bring a different change to my life. I wanted to start with new energies. Thanks to my new home, I created the opportunity to meet people from many different worlds. I am grateful to Esra Koyuncu, who taught me a lot and opened my horizons at first. It was wonderful to meet… I searched the internet for "Discover the positive energies in your home" and Esra Hanım's book "The Compass in Us" appeared before me. I immediately got the book. I finished in 2 days. I wrote a message to him. The next day the answer came to me. I cannot tell you how happy I was. I had a feeling that I had discovered something new. I tried to apply Feng Shui myself in my home, I found myself inadequate. I attended Esra Hanım's seminar. So I got my Feng Shui certificate at the end of the Basic Feng Shui Education. I invited Mrs. Esra to my house, she helped me a lot on some issues. I can hardly thank him enough. My life has changed with small details.
How has it changed? Do you believe me if Esra Hanım said I got pregnant 3 months after applying Feng Shui to my home?
It started from my bedroom. She said it was a good energy she said. But "if you want something to happen, put a red or pink-toned pillow or cover here, get two comets. Always keep both sides of your bed open. Do not put anything under your bed so that the good energies flow. Take a headboard and put 3 bamboo, "she said. There were no children in our plan, but we had a Feng Shui doll. Something has to be believed. I believe in Feng Shui teaching and also in personal growth energies. We believe that different energies support and help our lives for me and my wife. It was a little more difficult for my wife, of course, this is the Feng Shui issue, because the transportation in the house did not end all the time (I laugh)… the seats were moving around the house every year.
I am a person who always likes to educate myself in different subjects, learn, find in different environments, explore and renew myself. I have an investigative personality. Thanks to Feng Shui, I was lightened. How Does? Many unnecessary things left my house. I gave it to those who could not have it, and I experienced his happiness. I threw away all the old and broken pieces. When I bought something, I always bought a pair. I was more careful with my color choices. I discovered my work and fertility area and enlivened it. I changed the direction of the bed in his room for my child to sleep peacefully. I made the color tones of his room according to Feng Shui. I placed red tones in my tiny kitchen so that it would not be disturbed and its fertility would increase. I learned how much some elements affect us. For example, the Himalayan salt lamp. When I work, I immediately turn it on on my computer and I am happy. Here are many more… just do what you do with love. I immediately shared these innovations I discovered with my family and friends. I applied Feng Shui to them in their home too. Even though I am not very professional on this subject, I conveyed what I learned and gifted Esra Hanım's book to many of my friends.
I always have a few valuable books at my bedside. Thanks to these books, I know that my way of looking at life has changed. They strengthened me, they opened my horizons. I would like to share with you these authors I have discovered. First of all, "The Compass Within Us" by Esra Koyuncu and "We Can Live 150 Years", which Ms. Betül Arım gave me as a gift. "Life Without Medicine" from Ümit Aktaş, "Code of Life" from Mehmet Aktürk, "Living with Angels" from Erikli.
I attended many seminars of Ms. Betül Arım. I also learned a lot from him. A sweet, resourceful, lively person. I remember when he came to my house he had thrown all my pots and he went and bought me healthy pots that same day. She described the healthy pot and the healthy diet. And his conversation will not be enough. He taught me to make my own yogurt… Then I met Ümit Aktaş. I learned how to be treated with herbs instead of medicine. We have been paying attention to a gluten-free diet for 2 years. Thanks to Mr. Ümit's advice, we regained our health as a family. I had the opportunity to meet Mr. Mehmet Aktürkten in a life seminar. His book is very interesting. Perhaps my meeting with Erikli is a matter of "feather". Seeing a constant feather on my way beckoning me towards something. My inner intuition, my sixth sense, is strong. I usually have dreams. An event that will happen comes to my mind a few days in advance. Sometimes when I go somewhere, it feels like I've been there before. Again, while I was searching on the internet, the book "Living with Angels" appeared before me. I wondered, immediately got it and read it. Now, we draw angel cards every morning as a family. We are so happy. These cards are full of positive energy. Thanks to the angels, there is a message that the day gives us and we try to make it happen. I recommend these cards to everyone. I guess there is nothing more happy than starting the day with nice words. My 3-year-old son who is more curious than me. It's funny how he immediately wakes up in the morning and says "Mom, shall we draw a card?" After all, my son Tan is a Feng Shui baby. We are already trying to teach him to transfer positive energy around him. When I attended another seminar by Esra Hanım a few months ago, I learned another important name. Who do you know, one of the Master masters of Feng Shui? TAN Khoon Yong. That's why I'm telling you. Nothing is a coincidence!
Thank you very much to Gülseren Gomez for this sincere conversation. You can access his work on the website www.sesprod.com.
The first module of Feng Shui Training with Grand Master Raymond Lo will take place in Istanbul in November 2016. If you want to get detailed information about this training, which will add a new dimension to your professional life and daily life, check out our training page.
Labels: dance, education, fengshui, fengshui, education, gulserengomez, gulserengomez, istanbulrugbycenter, latinjazzband, latin musical instrument, lma, luisernestogomez, percussion, rhythm, rhythm studio, rhythm lesson, rhythm, seminar, soundboard, bedroom arrangement